Zero Percent Financing on Sony PVM-X Series Displays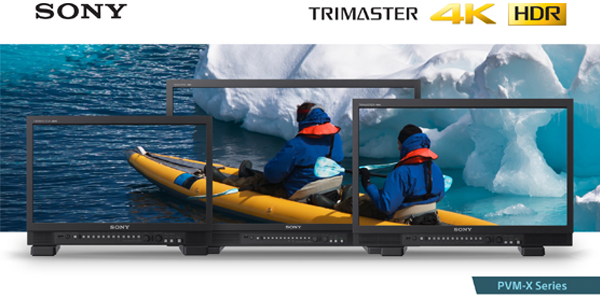 ---
Sony PVM-X Series professional monitors reveal every colorful detail with enhanced precision and accuracy.
Whether you're creating content on-set, on location, in a truck, broadcast studio, in the field, or edit suite, you want a monitor that you can trust to display the picture in its truest sense.
Presenting our PVM-X Series professional monitors that deliver stunning 4K, HDR, and HD images with the precision, accuracy, and consistency inherent in our TRIMASTER® processing architecture. Offering practical tools such as internal scopes, quad view display, 3D LUTs, and VPID support, the PVM-X Series
of 18", 24", and 32"* monitors share the same colorimetry as our flagship Master Grading monitor — the BVM-HX310 — ensuring color consistency from production to post.
Ideal for diverse applications, the flexible PVM-X Series meets your 4K, HD, HDR, or SDR display requirements and exhibits accurate and stunningly bright images.
Zero Percent Financing
Consider this: zero money down. And 0% financing for up to 24 months on select Sony Professional broadcast and production camcorders, projectors, monitors, decks and more, including the PVM-X Series professional monitors. Learn more about Zero Percent Financing here: pro.sony/zerofinancing
Contact DVG today to arrange your demo!