WAVY, Nexstar Media Group's NBC affiliate serving Hampton Roads and Norfolk, Virginia, debuted a new set and graphics on Aug. 15, 2023, that moves it closer in line with sister stations while maintaining familiarity.
Conceptually, the new set carries through a prominent element on the station's old home — a vertical video display placed in the center of home base.
As with many of its set projects, Nexstar's in-house team handled set design, continuing the evolution of a core concept that often features strong horizontals and verticals, various shades of matte gray and backlit surfaces combined with numerous video displays.
Digital Video Group provided AV integration for WAVY with display technology from Philips with processing from TVOne and NovaStar.
The vertical video panel behind the anchor desk, an element that has also been used at other Nexstar stations, continues to be a key way for the station to display its branding prominently, whether it be the familiar stylized "10" with wave iconography or "Fox 43" logo of sister station WVBT.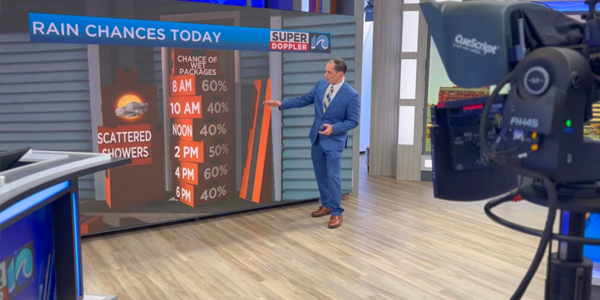 The weather center has flipped sides and now sits camera left of home base and features a 7×12 feet freestanding Philips 1.5mm pixel pitch LED wall inside a dark gray frame structure. Behind this is a backlit city map.
Complete Article can be found at NewscastStudio