DVG Integral NORTH – Washington DC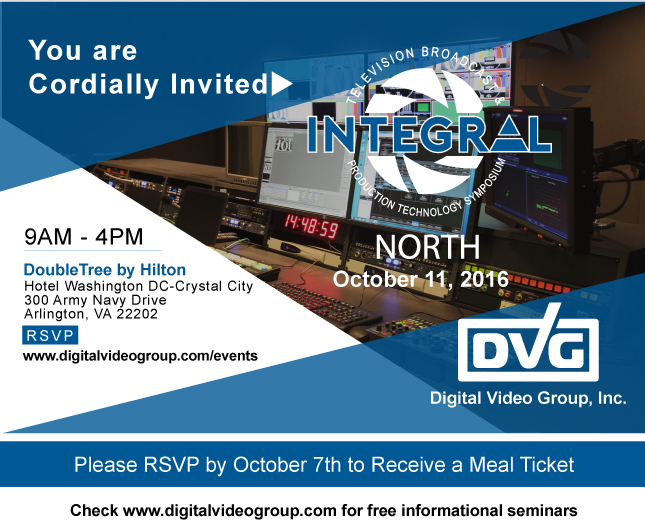 ---
DVG will be hosting The Integral Symposium NORTH  Tuesday October 11th 2016! This symposium will include four separate workshops as well as product demonstrations from over 30 of the industry leading manufacturers. See the latest in broadcast and production solutions from Sony, Panasonic, AJA, Ross Video, Grass Valley JVC, Avid and many more! The seminars, with guest speakers from the industry, will be covering a number of topics ranging from 4K to video over IP. Lunch will be provided at no charge!
Some of the highlights of the event include:
Over 30 of the industry leading vendors will be in attendance!
Hands on product demonstrations!
Technology Seminars presented by Industry Leaders!
Meet with DVG's Broadcast Design Team about your next project!
Drawings for Sony 40″ LED Tv!
Lunch and refreshments provided at no charge!
Metro Access!!!! (Pentagon City)
The  DVG Integral Symposium is a FREE event but you must register to attend! Follow the below link for more information and to register, we look forward to seeing you there!
When:         Tuesday October 11th 2016 – 9:00am-4pm
Seminar Presenters and Times:
Grass Valley  9:15-10:00
IP for Live Production
How forth coming standards support system timing which is a key towards supporting multiple work flows.
Linear Acoustics/Minnetonka  10:15-10:45
Mixing it up
A look at why audio mixes sound different on TV then they do in the mix room and tips on how to overcome these issues for produced and live productions.
Panasonic  11:00 – 11:45
In The Clouds
Wireless and Cloud workflows – making them work in live and production environments.
Tektronix 12:20-1:05
Interface Troubleshooting
This seminar will be a tutorial on what you need to know to stay away from the dreaded Digital Cliff for mission critical applications.  When 720p and 1080i are not good enough we find ourselves with new challenges of 4K/UHD and beyond.  As the technology moves forward we need to apply new methodologies in multi-layer interface monitoring and testing.  Video over IP, 12G SDI  and HDMI require tighter control on system stability.  These higher bitrates require new compression algorithms to maintain an acceptable quality of experience. High Dynamic Range and Wide Color Gamut will also be discussed.  Please bring your tough questions to make this session interactive.
Snell Advanced Media 1:15-2:00
Evolution of Production Switchers for a Multi-Format World
Today's production switchers need to readily adapt to new requirements for broadcast and other professional applications. The ability to easily adapt to 4K/UHD-1 for sources or outputs in addition to HD, adapting to fiber, coax or a mixture of connections. The latest requirement is to handle Studio Video over IP, either in the widespread standard of SMPTE-2022-6 or the emerging format TR-03. We will talk about how to best accommodate today's and tomorrow's needs.
Quantum 2:15-3:00
4K UHD HDR will require not just faster storage, but smarter storage too.
Beyond simply more pixels, it's higher resolution pixels and HDR (high dynamic range) programming that has consumers most excited. But the demands on production storage have never been greater than they are right now. In this presentation, Quantum will provide an overview of the multi-year software and hardware architecture effort that went into creating a shared storage system that exceeds the demands of today's high-resolution workflows.
Evertz  3:15 – 4:00
The Evolution Towards an Industry Standard for Live IP
A look at the current landscape for live IP system building in the context of evolving to a single industry standard that provides for all the functional capabilities of today's SDI systems using an IP infrastructure. SMPTE ST 2022-6, VSR TR-03 and Evertz ASPEN formats are examined for their capabilities and commonalities, and a roadmap is proposed that could result in convergence of these into a single SMPTE standard. In addition to looking at these in some technical detail, status of current activities in the standards community are disclosed.