Integral Symposium NORTH Washington DC Tuesday, October 30, 2018!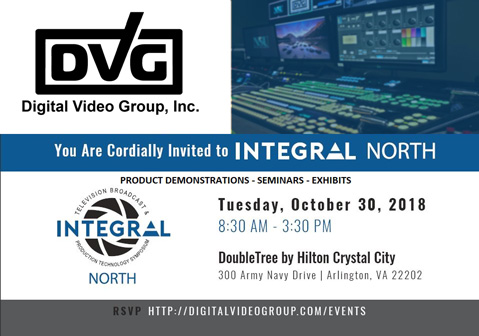 ---
DVG will be hosting The Integral Symposium NORTH  Tuesday October 30th 2018! This symposium will include four separate workshops as well as product demonstrations from over 30 of the industry leading manufacturers. See the latest in broadcast and production solutions from Sony, Panasonic, AJA, Ross Video, Grass Valley JVC, Avid and many more! The seminars, with guest speakers from the industry, will be covering a number of topics ranging from 4K to video over IP. Lunch will be provided at no charge!

Highlights of the event include:
Over 30 of the industry leading vendors will be in attendance!
Hands on product demonstrations!
Technology Seminars presented by Industry Leaders! FULL DETAILS BELOW
Meet with DVG's Broadcast Design Team about your next project!
Lunch and refreshments provided at no charge! *You must register by October 22nd for lunch ticket
Metro Access!!!! (Pentagon City)
The  DVG Integral Symposium is a FREE event but you must register to attend! Follow the below link for more information and to register, we look forward to seeing you there!

When:         Tuesday October 30th 2018 – 9:00am-4pm
Where:        Double Tree Washington DC – Crystal City
300 Army Navy Drive
Arlington, Virginia, 22202-2891, USA
Integral Seminars: 

9:00-9:45 am
LiveU George Klippel Doing more with less: the value of Cellular Bonding & At Home Production Production companies are covering live events, sports, and other productions today even better and more affordably with a remote production solution based on a cellular bonding nucleus, covering live events that wouldn't be possible due to the pure production/resource costs or infrastructure. LiveU will look at organizations and production companies betting big on this type of workflow.


10:00-10:45 am
Sony Ted Dembicki From Camera to Cloud Consolidated workflow from capture to Remote Ingest to Cloud based collaboration, approved and distributed!!


11:00-11:45 am
Digital Video Group Chuck Heffner Facility Design or Renovation A candid discussion on issues that should be considered when planning a new production facility or updating an existing system.


1:00-1:45 pm
Facilis Shane Rodbourn, Facilis VP & GM Flexible Choices for your Shared Storage Workflow A discussion about the many option for shared storage including type of storage, connectivity, platform, security and permissions, and how these and more can affect your workflow.


2:00-2:45 pm
CatDV Jeremy Strootman Asset Management and Systems Integration for the Entire Enterprise Jeremy Strootman from CatDV discusses Asset Management and it's role in the Business Enterprise, the tools to go with it and the Systems Integration to make it work.

3:00-3:45 pm
Evertz Paul Briscoe or Bob Fung Timing Hybrid SDI/ST2110 Systems Just about every ST2110 system will have some SDI elements, requiring genlock references for both domains. This presentation explains the virtualization of references using ST2059 and PTP, latencies exhibited in ST2110 systems, methods for building timed facilities within a plant, router re-entry, times switching, etc.