Avid Graphics Sports Road Show – DC / MD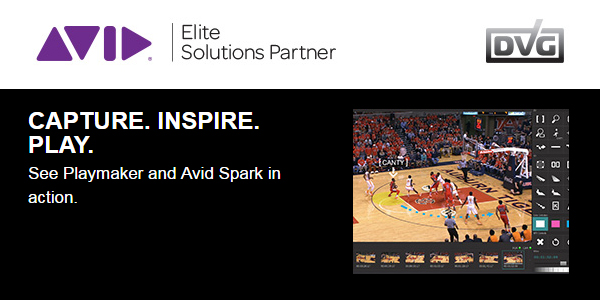 ---
Tuesday, February 21
AFI Silver Theater & Cultural Center
8633 Colesville Rd, Silver Spring, MD 20910

11:00 AM — 1:00 PM PlayMaker/Avid Spark Lunch & Learn
2:00 PM — 5:00 PM Private Demos Available by Request
Turn around media highlights instantly with PlayMaker. Get the edge on the competition with the latest innovations for sports customers, including the Avid Playmaker video server for advanced slow-motion replays and media highlights editing.
Capture and edit clips from multiple feeds into action-packed highlight reels—instantly
Create dramatic slow-motion replays with support for HFR cameras
Ingest up to 8 channels of high-quality video, with the flexibility to switch I/O configurations fast
Maximize efficiency by automatically collaborating with your entire production environment, including Interplay | Production, MediaCentral | UX, and Avid NEXIS
Avid Spark is the all-in-one telestration tool that ups your coverage with captivating in-game graphics.
Analyze the action with stunning, fully customizable 2D and 3D graphic elements
Draw graphics directly onto live video—including replays—and give your viewers a better visual understanding of the action
Enhance multiple points of interest in a single play
Smart and easy-to-use telestration tool – no dedicated operator required